↵
How do I enrol?
For any upcoming courses please register your interest here. A member of the administrative team will be in contact to complete the enrolment process and to get you onboard once your enquiry has been received.
When you come to enrol on a course, you will be asked to complete a Learner Enrolment Form and Learning Agreement.
You should also bring with you:
Your Learner Number and one piece of evidence showing your current address (if you are an existing learner)
Personal Identification to show your Name, Address and Postcode, Date of Birth and Telephone Number (if you are a new learner)
The Course Fee (if applicable)
How can I pay?
You must pay your tuition fees, exam and/or registration fees in full at the time that you enrol on the course, unless your employer has agreed to pay, in which case you must bring in a letter on company headed notepaper with details of exactly what your employer is authorising us to invoice them for
e.g. Tuition Fees - £220.00, Exam Fees £55.50, Registration Fee £20.00. Total £295.50
You may pay by cash, cheque or credit/debit card. On courses where the tuition fees are high, we may be able to arrange for you to pay in instalments. Ask the tutor, or enrolment clerk.
Initial Assessments
For some courses you will be required to have an interview and take an initial assessment to ensure your skills are right for successful study at this level.
What you will need to bring on the assessment day:
Valid passport, driving license or resident ID card

National insurance number - for employability and qualification courses

Proof of current address (This cannot be a mobile phone bill)
Additional Documents
Previous certificates or qualifications

If claiming a concession, please bring benefit letters (dated within three months) or most recent bank statement.
Childcare
Please ensure that you make your own childcare arrangements beforehand.
Safe Learning at SAFL
You have a right to be safe. We are committed to ensuring the safety and well-being of our learners, stakeholders, staff and visitors.
If you think you are being harmed or abused by another learner, a member of staff or visitor you should report this as soon as possible. Tell a trusted member of staff what is happening or contact any of the SAFL Safeguarding Officers:
Tonia Green - Safeguarding Lead
Lisa Espinosa - Safeguarding Officer
Siân Breese - Safeguarding Officer
Tokunbo Sode - Safeguarding Officer
You can read our full safeguarding policy here.
For tips, help and video tutorials for staying safe online see our Esafety Hub
Here are some links to local services that you may find useful:
Term Dates
Term starts: Monday 4 September 2023
Half-term holiday: Monday 30 October 2023 to Friday 3 November 2023

Term ends: Friday 22 December 2023

Christmas holiday: Monday 25 December 2023 to Friday 5 January 2024
Term starts: Monday 8 January 2024

Half-term holiday: Monday 12 February 2024 to Friday 16 February 2024

Term ends: Friday 22 March 2024

Easter Holiday: Monday 25 March 2024 to Friday 5 April 2024
Term starts: Monday 8 April 2024

May Day Bank Holiday: Monday 6 May 2024

Half-term holiday: Monday 27 May 2024 to Friday 31 May 2024

Term ends: Thursday 19 July 2024
Absence and Lateness
If for some reason, you cannot make it into college to attend your classes or you know you are going to be late, please call 0121 557 0837, or email us at contact_SAFL@sandwell.gov.uk. Please tell us the reason for your absence, and when you think you will next attend.
Information, Advice and Guidance Services
Information advice and guidance services are available to all learners and all potential learners. We aim to provide high quality, timely and relevant guidance to ensure that all learners make an informed choice and succeed on a course most suitable to their needs.
Information Advice and Guidance appointments can be made at all three of our main learning centres by contacting;
Hateley Heath Further Education and Training Centre 0121 556 7426

Ron Davis Centre, Smethwick 0121 555 6255

Tipton College 0121 557 0837
We Offer
Information, advice and guidance on learning and training opportunities

Support on choosing the learning / training route which is best for you

Information on how to apply for a course and the entry requirements needed

Guidance to help you identify your career goals and interests

Information on course fees and other costs associated with the course

Guidance on the opportunities available to you after completing your course, including further employment and higher education

A brief written summary of the guidance interview, outlining the action points agreed
You can expect
Friendly, courteous staff who listen to your needs

To be treated with respect, with consistency and fairness

Up to date, accurate and accessible information

Information on courses available to you

Access to individual, impartial, unbiased advice and guidance

Highly qualified and experienced guidance staff
What do we expect from you
We ask that you treat SAFL premises, staff and other users of the service with respect. If you have an appointment and are unable to attend, please notify us to rearrange or cancel an appointment.
SAFL welcomes enquiries from all and is committed to promoting equality of opportunity both within the service and the wider community. If you have a disability, or problems that affect the way you use our service, we will be happy to discuss the best means of helping you.
Useful links:
Job Vacancies
Are you on Twitter? Hear about our job vacancies first by following @SandwellJobs
You can also view Sandwell MBC vacancies, Universal Jobmatch and Vacancies in the Public and Voluntary Sector by visiting www.wmjobs.co.uk
Childcare
Finding Childcare? Sandwell Family Information Service (FIS) provide free, confidential, impartial advice and guidance on all aspects of childcare and hold the details about the full range of childcare providers including Childminders, day nurseries, nursery schools and preschool playgroups in your local area.
Frequently Asked Questions
How do I know if I am eligible for a course?
In short you need to be aged 19+ and have been an EU/UK resident for at least 3 years for us to provide fully or part funded courses to you. However, there are some exceptions to this rule so if you don't quite fit that may not be a problem. Get in touch here and our staff can see how they can best support you and getting you onto a suitable course. For our skills courses such as English, Maths, ICT and Business administration it is also required that you haven't already achieved the full level 2 qualification previously. i.e. Grade 4-9 / C-A* at GCSE Level.
What will I need to bring with me when I enrol?
In order to enrol you will need to bring proof of any benefits (if applicable), any previous certificates of learning, a form of identification and a form of payment if you are paying for the course.
Do I have to pay any course fees?
Many of our courses are fully funded by the West Midland's Combined Authority. Meaning, there would be no cost to you. For any that do have a cost it will be detailed in the "Additional Costs or Fees" section of the course description. For all courses that do have costs we also offer concessions on those fees. There is a 50% reduction to those aged 50+ and a 100% reduction for those in receipt of certain benefits. If you are unsure just get in touch here.
For the Academic Years 2022-2023, fees have been maintained at £3.50 per guided learning hour.
Fee discounts/concessions will apply as follows:
Employability /English/Maths courses are free of charge below level 2.
For all other courses/programmes:
In receipt of Job Seekers Allowance. (100% Discount)
In receipt of Universal credit. (100% Discount)
In receipt of Employment Support Allowance (Work Related). (100% Discount)
Learners aged 60+ will be entitled to a fee concession of up to 50%
What do I do if I need adapted resources or support with my learning?
You would first need to let someone know and you can do this by speaking to any member of the team regarding your individual learning needs. Alternatively, you can get in touch here.
What is a Function skills level 2 equivalent to?
Functional skills qualifications are recognised GCSE alternative qualifications with a Level 2 being equivalent to a GCSE grade 4-9 (C-A*). These are useful and often required for employment, university or further study.
What online courses do you offer?
You can explore our full range here . We offer our online courses either "Online" or "Blended".
Online Courses are available in 2 forms.

​Self-study - Courses where you study at your own pace supported by the online materials, enrolling at any time; and

Supported Study - Courses will be supported by a tutor, limited to a maximum of 20 people, have a set start date and will need to commit to around 2.5 hours study a week for each course. There will be some set class times to begin with as part of our induction process.

​

"Blended" classes involve a mixture of classroom-based lessons and lessons where you study from home. This means 1 week in the centre studying with a tutor and the next week joining the class online or completing some pre-set work. In the weeks that you are studying from home you will be sent online videos on the topic to be covered and will either be provided with the work to complete electronically or by paper (this is to help those who may have some barriers with using ICT).
What do I need for online courses?
You would need an internet connection and a laptop, pc or tablet to best use the service. Don't worry if you don't have Word, Excel or Publisher because we will provide you with a Microsoft 365 account whilst you are studying with us completely free of charge.
Will I be safe?
Here at SAFL we are committed to ensuring that all our learners' time with us is healthy and safe. We take this responsibility very seriously and you can read our Safeguarding Policy for more information which is under the Safe Learning at SAFL drop down at the top of the page. e have also put together guidance and support on how to stay safe online including how to set a secure password.
Is adult learning really for me?
We know that deciding to take up a new course to study can involve some complicated decisions about what course to choose. That's why we have Information, advice and guidance trained staff that can help. They take the time to understand what you want to achieve and give advice and guidance on how to get you there and who are the best people to support you, even if that is with another organisation.
I'm an employer. How can you help me?
Here at SAFL we understand that flexibility is required in our approach and that collaborative working is how we achieve better. We can respond to your needs for training and development in IT, business administration, management, leadership as well as specific industry-focused vocational training in health & social care, children's care and learning for development. We are always looking for opportunities to expand and support local employers.
If you are an employer and would like to refer staff to us then please email us at Contact_SAFL@sandwell.gov.uk .
If you are an employer and have a specific training need then email us at Contact_SAFL@sandwell.gov.uk and we can work on putting something together for your team. The course may even be fully funded so there wouldn't be a cost to you or your staff.
Alternatively, you may wish to consider reaching out to our partners at Think Sandwell who can help find work and training opportunities in the borough at enquiries_recruitment@sandwell.gov.uk .
What is SAFL Online?
SAFL Online is Sandwell Adult and Family Learning Service's new online learning platform. Here at SAFL, we are committed to making learning accessible to everyone across Sandwell and the West Midlands Combined Authority Area. That's why we have invested in bringing many of our courses online so that you can study in the comfort of your own home.
This means we can now offer "blended" and "online classes".
"Blended" classes will involve a mixture of classroom-based lessons and then lessons where you study from home. This means 1 week in the centre studying with a tutor and the next week joining the class online or completing self study from home.

"Online Courses" will come in 2 forms.

​Self-study - Courses where you study at your own pace supported by the online materials, enrolling at any time; and

Supported Study - Courses will be supported by a tutor, limited to a maximum of 20 people, have a set start date and will need to commit to around 2.5 hours study a week for each course. There will be some set class times to begin with as part of our induction process.
We really mean it when we say, "Putting the power of learning in your hands". You can now study with us from a computer, tablet or even your smartphone as well as studying with us in our classroom-based courses.
Learner Handbook
A copy of our Learner Handbook can be viewed here.
Learner Voice - Let Us Know What You Think
We welcome your views and want you to be involved more. You may be asked to fill in surveys and take part in discussions about your course. SAFL collects feedback from learners by:
Learner voice questionnaires to feedback about the course and the service.
Learners' views leaflets for comments, compliments and complaints.
Impact forms.
Learner forums.
If you would prefer to give your feedback anonymously, there are red post boxes located in the reception area of each of our three centres, to post your feedback.
Learner Comments
​
Responding to Learner Feedback
Learners felt they needed additional study time to complete homework task and practise the skills they have learnt – We have introduced 'learner zones' into our centres for the academic year 2017/18. This will enable learners to book into a session, staffed by one of the tutors, where they can use the classroom facilities to study or practice their skills.
Learners requested healthier options in the centre tuck shops to take into account learners with conditions such as diabetes – All of the tuck shops will be stocking a selection of sugar free drinks and healthy alternatives to chocolate such as cereal bars.
Learners at our Hateley Heath centre have asked for the tuck shop to be more accessible to learners – A selection of snacks will be made available in the main reception office to enable learners' access to the tuck shop throughout the centre opening hours.
Learners that attended the learner focus groups in July requested more opportunities to voice their opinions on the service – More learner focus groups will take place throughout the next academic year. Some of these will be themed to ensure that our learners have good access to new initiatives and information. Additionally, we are planning a specific 'learner feedback' week of each term where additional activities will take place that will enable learners to let us know whether we are meeting their needs and how we can improve our services.
Learners requested evening classes in maths and English at Ron Davis Centre – We will be opening the Ron Davis Centre on two evenings during the next academic year to enable these classes to take place.
Learners expressed a need for better signage at our centres to distinguish them apart from the school sites – We have been working hard on our service branding and will be purchasing new signs for all of our centres in the early part of the next academic year.
Learners were struggling to park at Tipton College as the car park was full of staff from other agencies – We consulted with the other agencies on site to ensure that, in addition to normal use of the car park, seven spaces are left for Tipton College learners only.
Learners at Hateley Heath expressed concern for the safety of children on our car park at the beginning and end of the school day – We have liaised with the school to resolve this issue. Parent volunteers are now staffing the entrance to the car park at the start and end of the school day to prevent parents and carers from bringing cars onto the car park at these busy times.
Learners expressed concern about the car parking at the Ron Davis Centre with parents from the neighbouring school taking all of the spaces during drop off and pick up times – Our staff will be working closely with the school to request that parents stay out of the centre car park when dropping off and collecting their children.
Learners requested that we make better use of social media to advertise our services – As part of a new marketing strategy SAFL will be making better use of the Sandwell MBC Facebook page over the next academic year to add to their current Twitter page.
Learners have expressed concern about the performance of our classroom IT equipment – We have undertaken a consultation process with local providers and have now prepared a tender to enable us to find a company to manage our learner IT provision using a new cloud based system. The service will be making a significant investment into our IT infrastructure over the next academic year to enable us to move forwards with an appropriate solution.
Complaints Procedure
Getting it right - if you need to make a complaint...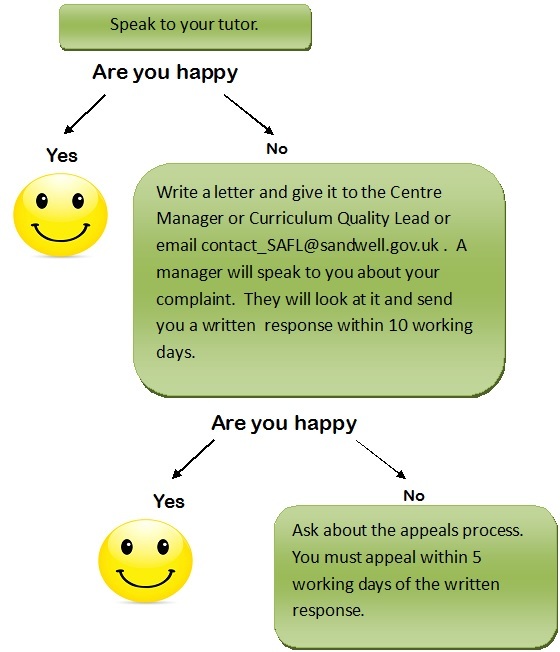 We hope that you enjoy learning with SAFL and wish you all the best in your learning journey!​​
Pound Plus Policy 2023
Overview
The West Midlands Combined Authority require, as part of their funding rules, Adult Community Learning providers to have in place a Pound Plus policy. Pound Plus refers to additional income generated by providers over and above our core income from the Adult Education Budget (AEB). It is a term used to describe how learning providers can show how they are maximising the value of public investment. This is important because generating additional income and cost savings is central to the objective of driving up participation within a very constrained public funding environment.
Income
Additional, pound plus income can include fee income, funding from other sources, income from resources in kind and other sources of revenue including:
Fee Generation: SAFL have in place a fee income structure which is competitively priced, ranging from workshops and courses to other community learning courses with concessionary fees available. The income raised from fees is used to fund courses and we have a hardship fund for those most in need. (Please see our Course Fee Policy)
Joint Funding & Grants: SAFL seeks funding from other sources including partnerships with local authority departments, from other adult community learning providers and voluntary and non-profit making local organisations as well as responding to AEB growth opportunities from the WMCA.
Business Charges: SAFL will seek to deliver bespoke courses and trade services to other organisations and businesses who can afford to pay a higher contribution rate that covers the management costs of running the course, plus other on-costs including additional resources.
Rent on Premises: SAFL will continue to generate additional income from the rental of office space and meeting rooms by internal local authority departments and third-party stakeholders and partners.
Cost Savings
To maximise funding and to provide value for money SAFL will seek to making cost savings as follows:
Venue Savings: SAFL has three centres and does work in partnership with other providers to deliver localised learning across the borough. When working with external venues the lowest rates of venue hire will be negotiated with the partner organisation on the grounds of the benefit of the community learning to the local area.
Reducing Costs through Reducing Repetition: The Strategic partnership will map learning opportunities and activities from public, private and third sector providers across the borough which will reduce overlap and unnecessary repetition of courses. This allows funds to be diverted to other areas of greater need.
Subcontractors Commitment: SAFL will seek commitment from subcontractors in relation to any contract for delivery to declare additional funds which will be utilised in the delivery of provision. Consideration will be taken to ensure that this does not result in double funding and will demonstrate the commitment of our partner organisations to support the local community.
Volunteering: When appropriate SAFL will utilise the use of volunteers to support the delivery of courses. Volunteers support governance.
Contributions in kind: The Council pay for our three centres and contribute towards SAFL's ICT infrastructure, the Council provides back office support functions in procurement, HR and finance. The council provides a coordinated staff development and training package.
How will Pound Plus be monitored?
Sandwell Adult and Family Learning will collect data throughout the year to monitor Pound Plus against provision data. This data will be reviewed on a termly basis. With respect to subcontracted provision, SAFL uses a Pound Plus Data Collection Form, sent out with the Self-Assessment Report (SAR) form for sub-contractors to complete. Once the forms are returned, they are recorded by provider and used as supporting evidence when considering individual provider SARs. The combined Pound Plus figures will be used as additional data to inform judgements made in SAFL's over-arching Self-Assessment Report.
For further information contact:
Tonia Green
Adult and Community Learning Manager
Email – tonia_green@sandwell.gov.uk