Term Dates
Term starts: Tuesday 1 September 2020

Half-term holiday: Monday 26 October 2020 to Friday 30 October 2020

Term ends: Friday 18 December 2020

Christmas holiday: Monday 21 December 2020 to Friday 1 January 2021
Term starts: Monday 4 January 2021

Half-term holiday: Monday 15 February 2021 to Friday 19 February 2021

Term ends: Thursday 1 April 2021

Easter Holiday: Friday 2 April to Friday 16 April 2021
Term starts: Monday 19 April 2021

Half-term holiday: Monday 31 May 2021 to Friday 4 June 2021

Term ends: Wednesday 21 July 2021

Summer holiday starts: Thursday 22 July 2021
Absence and Lateness
If for some reason, you cannot make it into college to attend your classes or you know you are going to be late, please call 0121 557 0837, or email us at contact_SAFL@sandwell.gov.uk. Please tell us the reason for your absence, and when you think you will next attend.
Information, Advice and Guidance Services
Information advice and guidance services are available to all learners and all potential learners. We aim to provide high quality, timely and relevant guidance to ensure that all learners make an informed choice and succeed on a course most suitable to their needs.
Information Advice and Guidance appointments can be made at all three of our main learning centres by contacting;
Hateley Heath Further Education and Training Centre 0121 556 7426

Ron Davis Centre, Smethwick 0121 555 6255

Tipton College 0121 557 0837
We Offer
Information, advice and guidance on learning and training opportunities

Support on choosing the learning / training route which is best for you

Information on how to apply for a course and the entry requirements needed

Guidance to help you identify your career goals and interests

Information on course fees and other costs associated with the course

Guidance on the opportunities available to you after completing your course, including further employment and higher education

A brief written summary of the guidance interview, outlining the action points agreed
You can expect
Friendly, courteous staff who listen to your needs

To be treated with respect, with consistency and fairness

Up to date, accurate and accessible information

Information on courses available to you

Access to individual, impartial, unbiased advice and guidance

Highly qualified and experienced guidance staff
What do we expect from you
We ask that you treat SAFL premises, staff and other users of the service with respect. If you have an appointment and are unable to attend please notify us to rearrange or cancel an appointment.
SAFL welcomes enquiries from all and is committed to promoting equality of opportunity both within the service and the wider community. If you have a disability, or problems that affect the way you use our service, we will be happy to discuss the best means of helping you.
Useful links:
Job Vacancies
Are you on Twitter? Hear about our job vacancies first by following @SandwellJobs
You can also view Sandwell MBC vacancies, Universal Jobmatch and Vacancies in the Public and Voluntary Sector by visiting www.wmjobs.co.uk
Childcare
Finding Childcare? Sandwell Family Information Service (FIS) provide free, confidential, impartial advice and guidance on all aspects of childcare and hold the details about the full range of childcare providers including Childminders, day nurseries, nursery schools and preschool playgroups in your local area.
Frequently Asked Questions
Please click here for our frequently asked questions.
Learner Handbook
A copy of our Learner Handbook can be viewed here.
Learner Voice - Let Us Know What You Think
We welcome your views and want you to be involved more. You may be asked to fill in surveys and take part in discussions about your course. SAFL collects feedback from learners by:
Learner voice questionnaires to feedback about the course and the service.
Learners' views leaflets for comments, compliments and complaints.
Impact forms.
Learner forums.
If you would prefer to give your feedback anonymously, there are red post boxes located in the reception area of each of our three centres, to post your feedback.
Learner Comments
​
Responding to Learner Feedback
Learners felt they needed additional study time to complete homework task and practise the skills they have learnt – We have introduced 'learner zones' into our centres for the academic year 2017/18. This will enable learners to book into a session, staffed by one of the tutors, where they can use the classroom facilities to study or practice their skills.
Learners requested healthier options in the centre tuck shops to take into account learners with conditions such as diabetes – All of the tuck shops will be stocking a selection of sugar free drinks and healthy alternatives to chocolate such as cereal bars.
Learners at our Hateley Heath centre have asked for the tuck shop to be more accessible to learners – A selection of snacks will be made available in the main reception office to enable learners' access to the tuck shop throughout the centre opening hours.
Learners that attended the learner focus groups in July requested more opportunities to voice their opinions on the service – More learner focus groups will take place throughout the next academic year. Some of these will be themed to ensure that our learners have good access to new initiatives and information. Additionally, we are planning a specific 'learner feedback' week of each term where additional activities will take place that will enable learners to let us know whether we are meeting their needs and how we can improve our services.
Learners requested evening classes in maths and English at Ron Davis Centre – We will be opening the Ron Davis Centre on two evenings during the next academic year to enable these classes to take place.
Learners expressed a need for better signage at our centres to distinguish them apart from the school sites – We have been working hard on our service branding and will be purchasing new signs for all of our centres in the early part of the next academic year.
Learners were struggling to park at Tipton College as the car park was full of staff from other agencies – We consulted with the other agencies on site to ensure that, in addition to normal use of the car park, seven spaces are left for Tipton College learners only.
Learners at Hateley Heath expressed concern for the safety of children on our car park at the beginning and end of the school day – We have liaised with the school to resolve this issue. Parent volunteers are now staffing the entrance to the car park at the start and end of the school day to prevent parents and carers from bringing cars onto the car park at these busy times.
Learners expressed concern about the car parking at the Ron Davis Centre with parents from the neighbouring school taking all of the spaces during drop off and pick up times – Our staff will be working closely with the school to request that parents stay out of the centre car park when dropping off and collecting their children.
Learners requested that we make better use of social media to advertise our services – As part of a new marketing strategy SAFL will be making better use of the Sandwell MBC Facebook page over the next academic year to add to their current Twitter page.
Learners have expressed concern about the performance of our classroom IT equipment – We have undertaken a consultation process with local providers and have now prepared a tender to enable us to find a company to manage our learner IT provision using a new cloud based system. The service will be making a significant investment into our IT infrastructure over the next academic year to enable us to move forwards with an appropriate solution.
Complaints Procedure
Getting it right - if yu need to make a complaint...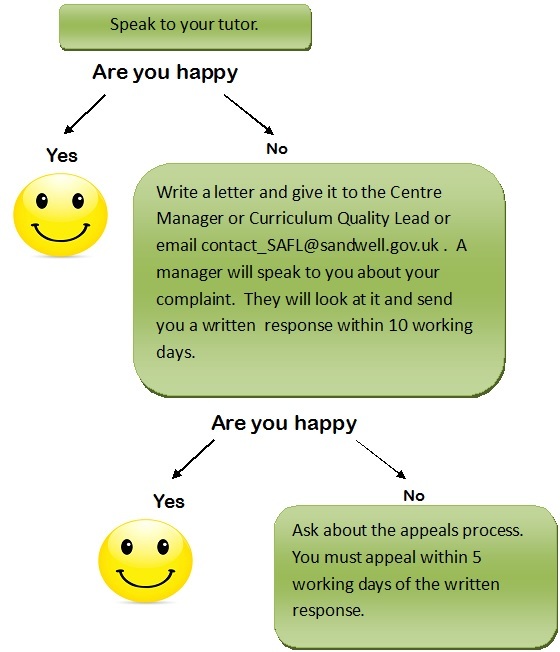 We hope that you enjoy learning with SAFL and wish you all the best in your learning journey!
NUS Extra
Learn with us and you can apply for a NUS Student Discount Card. This enables you to get a discount at a range of stores, restaurants and more! For help on how to apply view our step by step guide.
Safe Learning at SAFL
You have a right to be safe. We are committed to ensuring the safety and well-being of our learners, stakeholders, staff and visitors.
If you think you are being harmed or abused by another learner, a member of staff or visitor you should report this as soon as possible. Tell a trusted member of staff what is happening or contact any of the SAFL Safeguarding Officers:
Tonia Green - Safeguarding Lead
Lisa Espinosa - Safeguarding Officer
Siân Breese - Safeguarding Officer
You can read our full safeguarding policy here.
Here are some links to local services that you may find useful: