Free Online Safety Event for Parents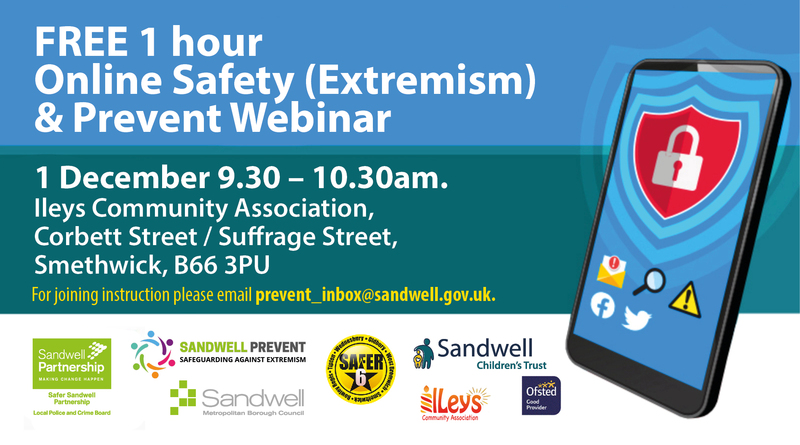 Next Sessions:
​Thursday 1st December 2022 - 9:30am - 10:30am
If you are a school or group who have 10 or more people interested in this type of session, then please contact Prevent_Inbox@Sandwell.gov.uk and we will be happy to help arrange an extra session.
Are you a parent or carer? Do you know what your children are doing online?
Are you an adult in Sandwell? Are you aware of the Prevent Strategy?
Learn how to help to keep children and others safe from extremism online by joining our free online safety session.
Join Sandwell Council's Prevent team on 1st December 2022 for a short, interactive Microsoft Teams webinar regarding online safety in relation to extremism and Prevent. The Council's Prevent team works with partners and communities to stop people being drawn into extremism and terrorism; and in raising awareness of Prevent and how to report concerns.​
The FREE 1 hour online safety (extremism) session will cover:
• Current online issues for children
• Popular apps, games and social media platforms (including age limits)
• How extremists aim to influence online
• Signs of concern/risk of radicalisation
• Tips and advice to keep your child safe online
• Additional resources/links to support
Event information
Key information on popular apps/social media

Tips, advice and links to keep your child safe online

Information and support

Awareness of Prevent and how to report concerns
Please note that you can join the session anonymously and ask questions live to the presenters. This event can be joined using the "Join Now" button or by attending in person at ILEYS Community Association, Corbett Street / Suffrage Street, Smethwick, B66 3PU.

Joining instructions
To attend this session in person please email

prevent_inbox@sandwell.gov.uk

to book your spot.

To join this event online see instructions below.

Click the button here: . This button will only become live when the next event date and time is agreed.

If you are joining on Android or IOS/Apple you will need to download the Microsoft Teams app from the

Play store

or

App store

and then click back through the 'Join Now' button above.

If you are joining on a laptop / another machine, click the

'Join Now' button above

to access through the web. Or for a better experience, copy and paste the link into Google Chrome.

Click on the

'Join Now' button above a

nd then select 'watch on the web instead' if you don't have the app.

Please note: you can pause and rewind the webinar at any point.

Please join the webinar at the start time, you will see a blank waiting screen if you join early.

There will be an opportunity for a Q&A with the presenters.
Councillor Maria Crompton, Sandwell Council's Deputy Leader, said: "The internet is a great resource for young people. However, with social media and the internet becoming an increasing part of young people's lives and a hub for interaction with peers, they may be vulnerable to being targeted by those who wish to harm them. By giving parents or carers the information about how to stay safe online we can stop the perpetrators in their tracks."
For information on preventing extremism and terrorism, visit www.sandwell.gov.uk/prevent
Go to www.thinkuknow.co.uk for home activity packs to promote online safety with children.
If you're worried about who your children are talking to online in relation to extremism, or for concerns around radicalisation, the website www.ACTEARLY.uk offers help and advice.
If you hear or see something that could be terrorist related, act on your instincts and call the police, in confidence, on 0800 789 321 or visit www.gov.uk/ACT.
Come and check us out on Twitter