Subcontracting 2017-2018
Sandwell Adult and Family Learning (SAFL) wishes to commission provision to support local voluntary and community sector organisations to deliver learning opportunities to targeted priority groups of residents. Any organisation that receives funding from SAFL will be classed as a subcontractor. Our targeted priorities for 2017-2018 are outlined in the presentation below.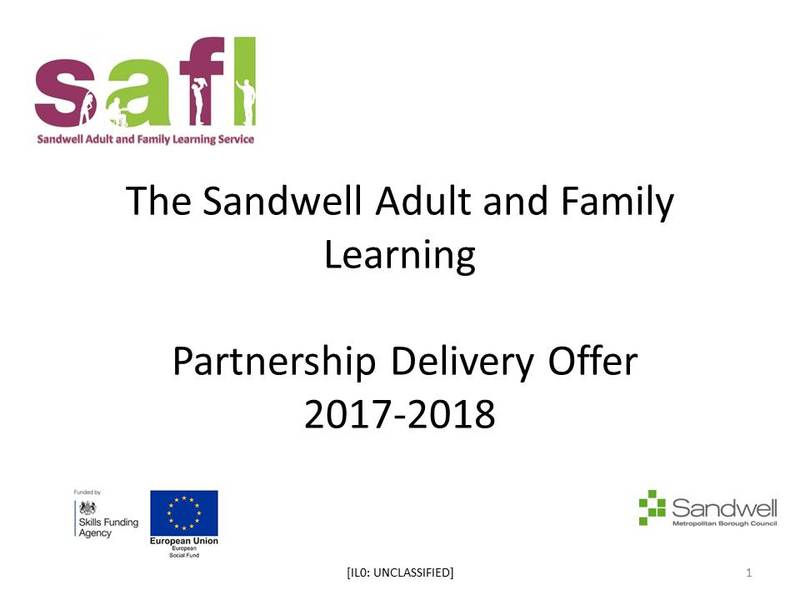 Important update.

Subcontracting Main Grant 2017/2018 - is now closed.
| | |
| --- | --- |
| STAGE | DATE |
| Release of the 2017-2018 Community Learning offer | 12th March 2018 |
| Invitations to submit applications for delivery to commence October 2017 | 12th March 2018 – 23rd March 2018 |
| Notification of results from Project Appraisal Panel | 29th March 2018 |
| Contracts awarded | WC 9th April 2018 |
Application Process for the Partnership Delivery 2017 - 2018
All applications for funding will be received using the Sandwell Metropolitan Borough Council procurement process. If you are interested in submitting an application, please complete an application form available from the Sandwell Metropolitan Borough Council procurement web page
www.sandwell.gov.uk/info/200176/business/2236/tenders_and_procurement
To access the full specification and application form, organisations will need to be registered on the Sandwell Metropolitan Borough Council procurement system
https://in-tendhost.co.uk/sandwellmbc/aspx/Registration
Key Dates: Applications
Please note: Applications will be approved subject to sufficient funds being available. Projects can be short or long but all activity must be completed by 30th June 2018.
Adult Skills Programme Specification and Guidance 2017-2018
Learner Fees Policy
Our courses are subsidised by the Skills Funding Agency. The fee quoted in the prospectus or on our course finder, is the learner's contribution towards the cost of the courses. We are aware of the current economic situation and many of us will be affected by changing circumstances. In these difficult financial times we believe that our competitive fee pricing compares very favourably with other colleges and learning providers in the area.
Tuition Fees are based on £3.50 per guided learning hours.
In addition, some exam-based courses may require a registration fee and/or exam fee. For some practical courses you may need to buy some materials or tools.
Fee Discounts and Remission
Fee discounts for those on JSA/ESA/Universal Credit or active benefits will apply. Literacy and Numeracy courses including Family Literacy Language and Numeracy throughout the service continue to be FREE.
See our Policy Document below for full details
Information to download
Supplier Charges - Skills Funding Agency Subcontractors
List of delcared subcontractors 2017/2018